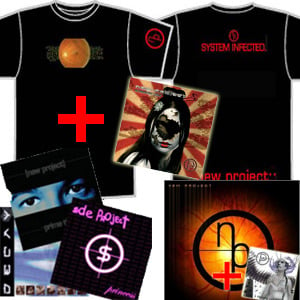 $

30.00
This pack is everything NP in one: 7CDs, promo DVD, 1 t-shirt (only men's M, L or XL available). Please note this does not include the Ora Pro Nobis CD (2018).
Ultraviolent Light - Album
Almost Time & Primal.Logic.Slave. EPs
Promo Almost Time DVD
This includes video clips for Prime Time & Tweaking The Cute Gene as well as 4 making of videos, bonus tracks and more. As this is a promotional DVD (never released) it comes in a plastic sleeve and may not have labeling or printed material on it. Please note that this DVD may only work in computers, may not work on all players.
and singles collection:

Prime Time (enhanced CD - 2003)
1. Prime Time
2. In Formation – ReFormed edit
3. Prime Time – (Zoned Re-Edit)
4. Prime Time video clip
Decay (digipak numbered limited edition - 2005)
1. Decay
2. Sentinel
3. Prime Time live + bonus hidden track
Side Project - Princess (enhanced CD - 2004)
1. Intro
2. Princess
3. Princess – Death From Above mix
4. Princess – Alkaline mix
5. Princess – Unplugged
6. Princess – radio friendly version
7. Princess video clip
Sampler v1.0 - NP's 1st demo (2001)
This CD comes in plastic sleeve
1. Generation (intro)
2. Tweaking The Cute Gene
3. The Fairy & The Reaper
4. In Formation
5. Prime Time
If you would like any of these singles by themselves please contact us for pricing!